Dates have been selected! Make your flight reservations now!!!
Healthy Living Gathering is the weekend of July 30 through August 1, 2004 in Chicago.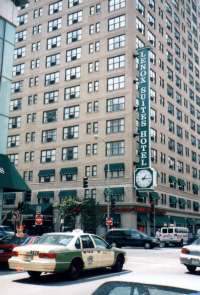 We have reserved a block of rooms at the Lenox Suites hotel. These are rooms with two double beds, I believe a double walk-in type closet, a kitchenette (with regular stove/oven plus microwave and small refrigerator) for the unbelievably low price of $121 a night (very low for downtown Chicago!!) So even if you share a room, it's still less than you would pay for a night at a suburban hotel by yourself. Up to four people can share one room (if you don't mind sharing a bed with one of your roommates.)
They have some suites - I don't know the price - but you can upgrade. I would expect you can upgrade to a studio for about $150 a night and a small suite for $175 a night - the "premier" rooms include high speed internet access. Depends on how much you want to splurge.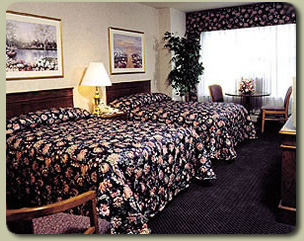 These rooms will only be held until June 29!! There are only 5 rooms left, so if you are going to come, please make your reservation early.
1.800.44.LENOX (1-800-445-3669 USA & Canada)
These rooms are reserved as "Healthy Living" for Friday 7/30/2004 and Sat 7/31/2004. I would recommend reserving early if you want to come early or leave later.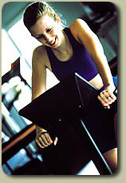 These rooms have the small table you can see - to the right is the kitchenette. In the foreground are two lounge chairs with a table between them. These rooms have dialup dataports. There is also a fitness center.
This Hotel is close to EVERYTHING!

Chicago Watertower - one of the only buildings to
survive the Great Chicago Fire.
Here is a link to the Lenox Suites Hotel if you want to check out the amenities. (This will open in a new window. You can close it to return here.) It also houses Houston's restaurant, one of my absolute favorites in Chicago, and is close to many other GREAT restaurants. It's right near the Magnificent Mile so start now zeroing out your credit card balances so you can shop til you drop!!! We have every big name store you can think of! Neimann Marcus, Saks 5th Avenue, Talbot, Eddie Bauer, Gap, Marshall Fields, Lord & Taylor, Victoria's Secret, Cartier, Van Cleef and Arpels (bet you haven't heard that since you had to spend your winnings on Wheel of Fortune!), Levi. . .the list goes on and on!
There is a TON of free stuff to do!
Chicago Outdoor Film Festival - The outdoor film festival is a great event for friends and family to enjoy classic films outside under the stars. The festival is held on Tuesday evenings. Free
Navy Pier Fireworks - Every Wednesday and Saturday evening join the crowds at Navy Pier to view the amazing and colorful fireworks of Navy Pier. It's July 4th every Wednesday and Saturday. Free
Loop Train Tour 2004 - Fully-narrated, 40-minute architectural tour of the downtown loop on board a CTA elevated train. Saturdays only. Free
One-hour dance lessons to taped music are followed by live music and dancing on a 3,500 sq. ft. open-air dance floor. Dozens of scheduled bands offer something for everyone: Latin, big band, country/western, Greek, African and swing. (Doesn't say free, might have a cost associated with it.)
Art in the Gardens 2004 - Chicago Parks will be decorated this summer with works of art by various local, national and international artists contributing to Art in the Gardens. Free
Whenever we schedule it - my boss said he would take us on an architectural tour of Chicago for free. He does this as a second job and usually it costs $20 per person. He's so cool ;-)
There are also a lot of non-free events going on. Stuff at Second City, Plays at the theaters (Oklahoma, Menapause, Blue Man Group to name a few - those run $45-80 per person), Dinner Cruises on the Spirit of Chicago (although those would definitely have to be booked in advance), The Institute of Art, The Field Museum of Natural History, The Shedd Aquarium, The Museum of Science and Industry, etc.
| | |
| --- | --- |
| | Street Drummers in the Park |
| | |
| --- | --- |
| Background - Chicago Institute of Arts. Adams Street - the beggining of the Historic Route 66. Chicago Symphony Orchestra Hall is on the right. | |
| | |
| --- | --- |
| | The Chicago Theater |
Make your plans now and watch for more details!!!
Friday and Saturday, July 30 and 31, 2004
Lenox Suites Hotel
1.800.44.LENOX (1-800-445-3669 USA & Canada)
Reservation Code "HEALTHY LIVING"